I really bang on about Real Techniques here on Hope, Freedom, Love – but it's with good reason! Not only did they bring budget friendly brushes to the high street, but the brushes perform better than a lot of high end brands – all for a fraction of the price! I love that the brand always feels current, bringing out products that we're all desperate to get our hands on. Following the beauty trends creates huge demand and it means that people like me can try out beauty trends, without compromising paying my mortgage! This new set from Real Techniques gave me heart palpitations the very first time I spotted it…
If you've never heard of Real Techniques – (where have you been?!) – you'll be unaware that the brand was designed with top-rated YouTube beauty gurus Sam and Nic Chapman. The two qualified makeup artists have heaps of experience and were able to help Real Techniques to create a range of high-tech brushes. The brand was created to help the everyday person to reveal their inner expert!
The brushes are available at two price points, offering a offers a full base line of brushes as well as the luxury collection, Bold Metals – both of which I love! The Real Techniques brushes are split into three categories, which each have their own colour coding – base, eyes and finish. All of the brushes are hand cut, which gives them a precise defined shape. They are even created with UltraPlush synthetic bristles, so they are 100% cruelty free!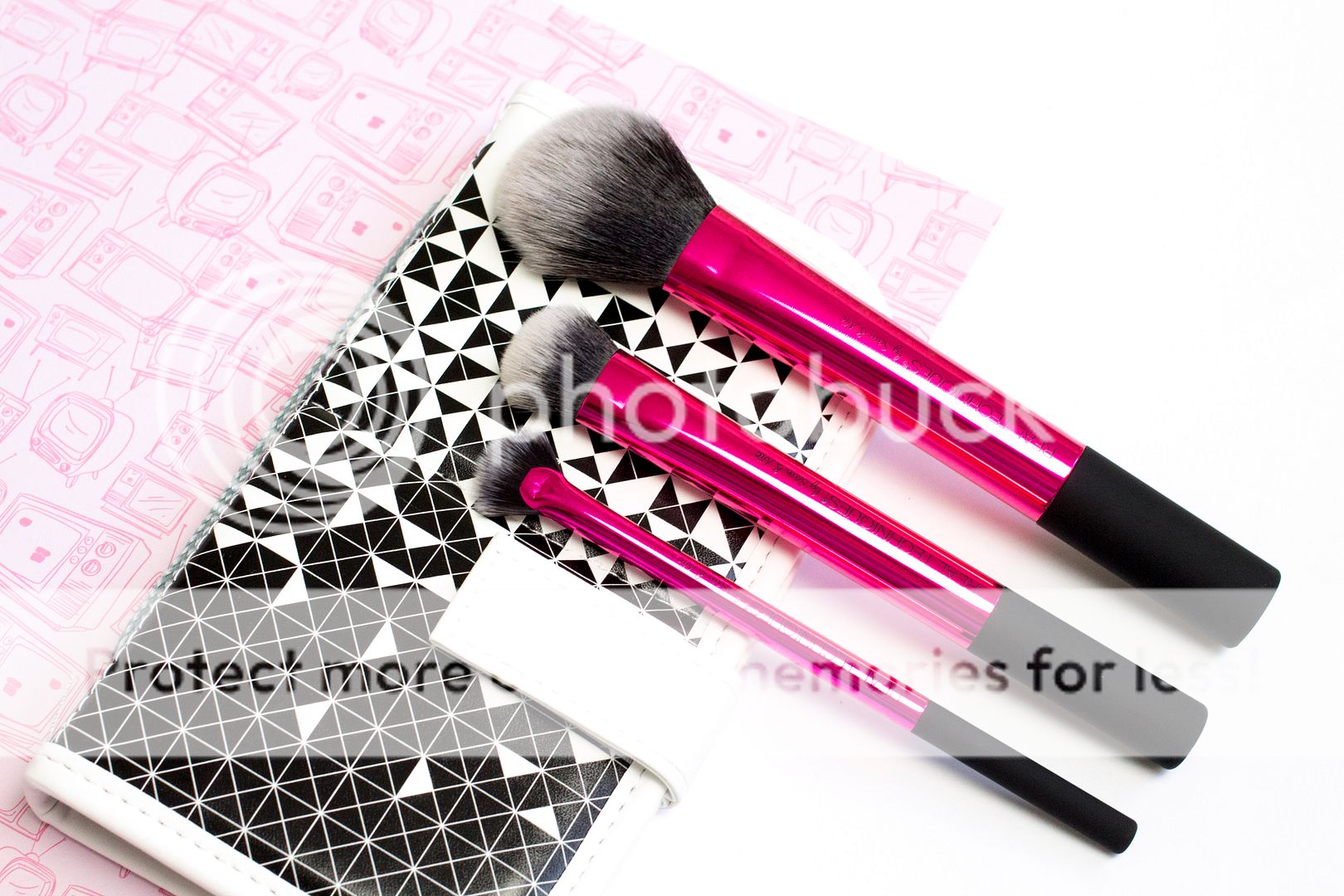 The latest limited edition collection from Real Techniques is the Highlight And Glow Brush Set*. This kit includes two exclusive brushes and they are designed to give you every brush you need for creating a natural, beautiful glow. The three brushes have been designed to cater for highlighting, strobing, and bronzing – which is bang on trend. The three brushes include: the multi task brush, the targeted blending brush and the compact fan brush.
I actually already own three of the multi task brush, it's such a fabulous, all-rounder, which everyone needs in their collection! It features long, tapered bristles – which means it's fantastic for bronzer or highlighter. The targeted blending brush is one of the exclusive brushes in the set! It's densely packed, which means it's perfect for blending liquids or creams. My favourite brush from the set is another exclusive brush and it's the compact fan brush! First of all, how CUTE is this brush?! Secondly, it's the brush I've dreamed about for years! It has dense bristles, which means you can use it to add precision glow to the smaller areas. It's also so small that it's handy for blending concealer around the eyes and for adding setting powder in those hard to reach places!
The full set arrives in a panoramic case, finished in jazzy exclusive design, so that you can carry your brushes in style and stand them on the side in any location. This amazing little set is only available for a limited time (which actually started back in August) so don't miss your chance to grab it from Boots, priced at £20.